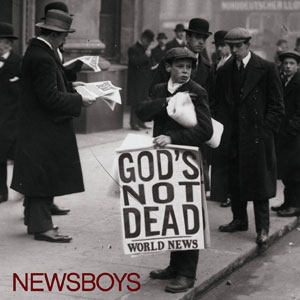 Newsboys are back on the shelves once again with a new worship CD entitled, God's Not Dead.
It was meant to be a follow-up to the successful Born Again, released last year. Those in the band said that the album was visualized even before Born Again, from what I've heard.
Now, when Peter Furler decided to leave the band, I was skeptical they could continue under the same name. I went in to the last CD with an open mind, although somewhat still unsure about it – but Born Again hit the perfect notes on many tracks. In the time since that initial transition to Michael Tait at the lead, they've done brilliantly well. God's Not Dead was supposed to follow up on that success.
Unfortunately, it didn't even make it out onto the road.
The album, while having a somewhat similar sound to Born Again, just doesn't really have tracks that latch inside your head for hours after that first listen. As a fan, that's disappointing.
The two songs I did enjoy, however, were "The King is Coming" and "Your Love Never Fails." The latter is a particularly excellent cover – and managed to latch in my head for a while. In my view, it's the best song on the album. Aside from Michael Tait's excellent vocals, Jody Davis's background vocals, crisp guitar and distinctive sound are constant through it.
But, that's where the greatness ends.
Apparently I'm not the only one who wasn't really phased by the album. It debuted on the Billboard 200 at 63, before falling to 138 in its second week. That's the band's worst start for a new album since Love Liberty Disco. Now, it's not all about debut numbers – Shine: The Hits turned into a gold record, and had a peak of 122 on that chart. The thing, however, is that it had legs. Weeks into its debut, it was still churning out sales on the chart.
God's Not Dead was No. 1 on iTunes on the day of its debut, which is an awesome achievement for the band. Yet, it ended up debuting at No. 12 on Billboard's Christian Albums chart. Even the special edition of Born Again hit No. 3 on the same chart.
And, as we all know, singles help to sell the album. None have yet charted on Billboard.
I don't take an issue with the style, as the band's reinvention of itself isn't half bad.
What really worries me, though, is right in the songwriting credits. The Newsboys have released worship albums in the past – both in 2003 and 04 with Adoration and Devotion, respectively. Adoration spun out "He Reigns," which turned into a new anthem for worship music and proved to be one of the most popular songs in the band's history.
It was written by Newsboys band members and performed by them. None of those are on this album.
The writing talents on this album are excellent – Seth Mosely, of Me In Motion, helped co-write and produce Peter Furler's solo debut album, On Fire. He performed the same duties on God's Not Dead for Newsboys.
My big concern is that the band is bringing in writers to create songs, while the proven talents of Jody Davis, Jeff Frankenstein and Michael Tait go to waste. If the boys could do it back in 2003 and 04, what's stopping them from writing their own songs now?
Davis helped pen songs like "Entertaining Angels" and "Let it Go," while Frankenstein was credited on numerous tracks on In the Hands of God. Even on Born Again, the band called in other songwriters to help flesh out the album.
While their musical abilities haven't changed or degraded, Newsboys need to step up the writing game. Heck, even Take That, a British pop group wrote all of their songs in recent years.
I love the Newsboys, and I always will, but God's Not Dead ranks among the more disappointing ones on my shelf.